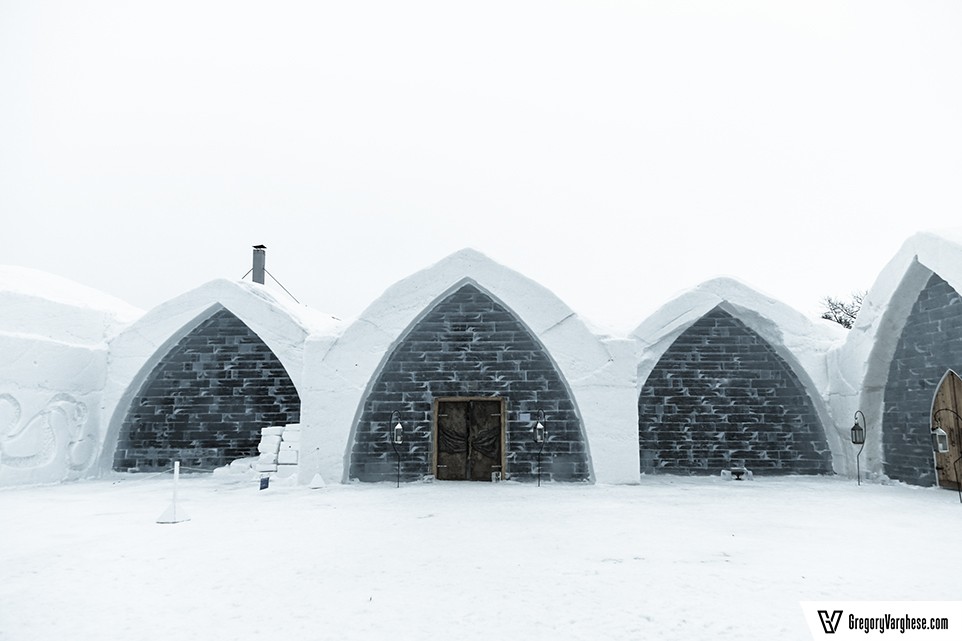 During my trip to Old Quebec back in 2013, I stayed at the Hotel de Glace, aka the Ice Hotel. The experience was interesting to say the least. I arrived early to grab some photos of the site before the crowds got large and blocked the views. As I had booked a stay, I was able to access the grounds for free and wander around and take in the sights. They built the hotel on the grounds of a former zoo that could no longer afford maintaining the wildlife. I got to go snowshoe hiking along a trail and explore the grounds. Unfortunately, I didn't get the opportunity to photograph any wildlife on the grounds, birds or otherwise, as nothing presented itself.
The hotel itself is an amazing feat of modern architecture. For example, each brick in the photo above weighs 300 lbs. The snow and ice are all made from specially purified water to ensure that everything holds and stays up. The internal temperature of hotel is constantly kept at -5º C which keeps the ice and snow from melting. They build the hotel in phases and every year sports a new theme. In 2013, they went with a Jules Verne based theme featuring scenes from 20,000 Leagues Under the Sea, and others. During my stay, construction was occurring on the third phase of the hotel which included new rooms as well a new slide and rock tower both made of ice. The rooms featured themes ranging from Christmas to Romance, to many others. For some inexplicable reason, they had me in the romance suite even though I was there solo.
The rooms themselves were very interesting. Each room has a theme and have only curtains for doors. The beds are made from ice and topped with a mattress and faux fur bedding.
After 9 pm, they clear all the non-hotel guest out and escort the overnight guests to the Nordic relaxation area with outdoor spas and sauna. This place is very peaceful and the winter decor is amazing. They have you spend time in a hot tub to raise your body temperature so that when you stay in the room, you're more comfortable. When it's time for bed, you're given a sleeping bag along with a NASA space age lining that traps body heat in the bag and keeps you from feeling cold. In my case, the bag became so hot that I had trouble breathing and woke up choking. I ended up ripping the bag open to release the excess heat. It turned out to be a bad idea because the heat and cold condensed in the bag very quickly soaking me in cold water. Overall the entire experience was differently interesting and it's worth doing at least once.
Related
Related Posts