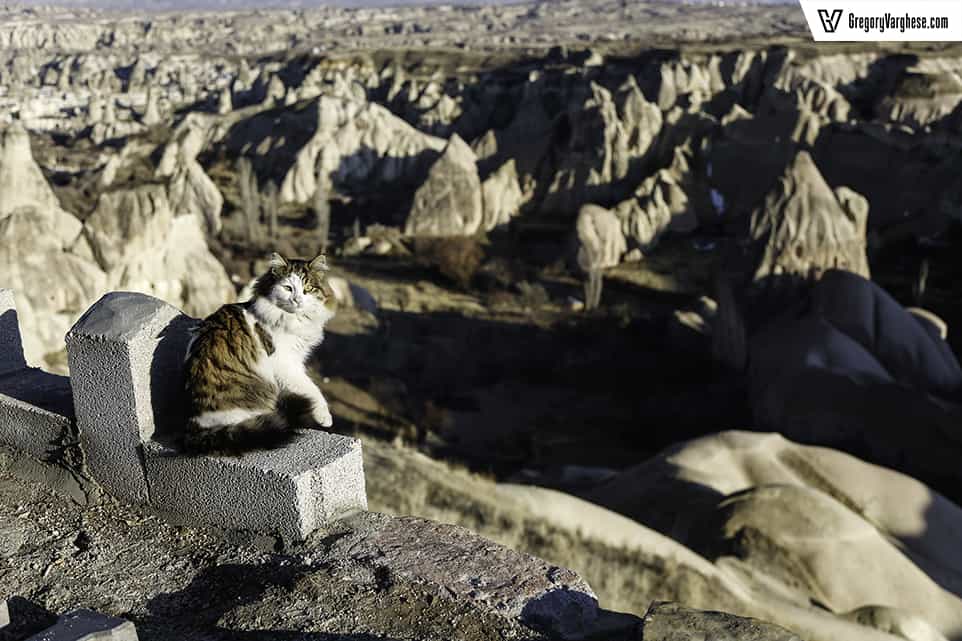 I'm starting the month of June with another cat photo. This one was taken at the Anatolian Plains in Cappadocia.
Cappadocia, Turkey, is the historic area of central Anatolia bounded by the towns of Hacıbektaş, Aksaray, Niğde, and Kayseri (map). It was known as Cappadocia in ancient times and is still called Kapadokya informally today.
Cappadocia is Turkey's most visually striking region, especially the "moonscape" area around the towns of Ürgüp, Göreme, Uçhisar, Avanos and Mustafapaşa (Sinasos), where erosion has formed caves, clefts, pinnacles, "fairy chimneys" and sensuous folds in the soft volcanic rock.
Although the volcanic landscape can appear inhospitable, the mineral-rich soil is excellent for growing vegetables and fruits, making Cappadocia a rich agricultural region. It has always been one of Anatolia's prime grape-growing areas, and still boasts many productive vineyards and wineries.
The Bible's New Testament tells of Cappadocia, but in fact, this part of central Anatolia has been important since Hittite times, long before the time of Jesus.
Excerpt taken from https://turkeytravelplanner.com/go/CentralAnatolia/Cappadocia/index.html
Related
Related Posts
https://www.youtube.com/watch?v=0GcjiQ3DXNk I found this and realized I never shared it. I created a time-lapse video from my Pixel 3 of NYC right before the blizzard hit. I had set the phone on top...